---
Welcome Back to Campus!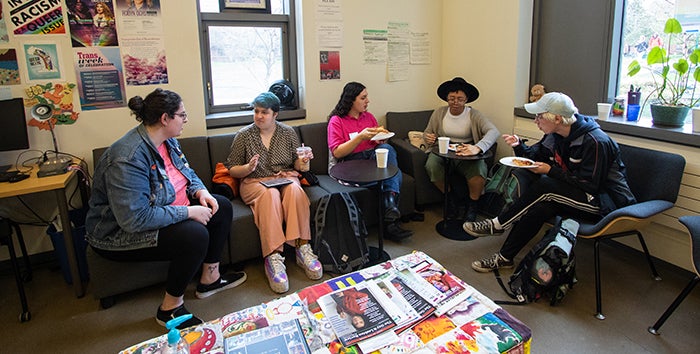 Visit the LGBTQA3 Alliance Student Office
Located in Erb Memorial Union, Room 022
Monday–Friday: 9:00 a.m.–5:00 p.m., fall, winter, and spring terms
Public posting board with LGBTQIA+ events
Computers and free printing
Study area
Snacks and tea
LGBTQIA+ library
Connect with LGBT+ Education and Support Services
Oregon Hall, Suite 380
Monday–Friday: 9:00 a.m.–5:00 p.m.
Meet with a coordinator to navigate LGBTQIA+ inclusive resources, find community, get support through shifts in identity, and get access to basic needs resources.
A Campus for All
The LGBT Education and Support Services team works to affirm the lives of lesbian, gay, bisexual, transgender, queer, questioning, asexual, aromantic, and allied (LGBTQIA+) students, faculty, and staff by providing educational and supportive resources. Our campus has been recognized as the top college in Oregon for LGBTQ students by the Campus Pride Index.
We are dedicated to providing space for all University of Oregon community members to explore their understanding of sexual/romantic orientation, gender, gender expression, and intersections of identities. We look forward to being in community with you.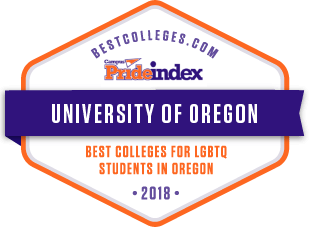 ---
Get Educated
LGBTESS offers programs that are designed to educate people about the truth and diversity of the lives of LGBTQIA+ individuals. Through ally training and panel discussions, we provide opportunities to share stories and ask questions in a way that fosters understanding, appreciation, and respect. Presentations are also available upon request.
Get Involved
Our student-driven outreach teams engage and empower LGBTQIA+ current and prospective students. Whether organizing events, being involved in campus organizations, or taking part in educational panels, our student employees and volunteers connect with the greater campus community, sharing resources to support students' well-being and academic success.
In addition to our programs and services, there are organizations on and off campus, all focused on promoting awareness, education, support, and appreciation for lesbian, gay, bisexual, transgender, intersex, and queer issues.
Get Resources
Resources for LGBTQIA+ students encourage holistic support through mental, medical, and community care. Several scholarships that are based on both merit and need, including our LGBTQIA+ Emergency Fund. Students are also invited to apply for LGBTESS-sponsored trips to conferences.
For students who are currently in or hoping to begin the process of transitioning while attending the UO, the university offers a variety of resources and services.
Navigate Campus
There's a reason we've been recognized nationally as one of the best colleges for LGBTQIA+ students. From gender equity housing options to LGBTQIA+ protections, we are committed to creating an environment of respect and encouragement for all of our students.
Support LGBTQIA+ Students in Crisis by Donating to the LGBTQIA+ Emergency Fund
Queer and transgender students of color are particularly likely to experience housing, food, and healthcare insecurities. The LGBTQIA+ Emergency Fund offers a financial safety net for LGBTQIA+ students. This award assists students in finding secure housing, food, medical and mental health resources, gender-affirming care, and other need-based assistance. Critically, this award prevents interruption in students' academic journeys.
The demand for this award has dramatically increased due to COVID-19. During 2020, this award has been given to four times more recipients than previous years, with an average of $500 per award. Many recipients of the award are queer and trans students of color, and students with disabilities. By making a gift to the LGBTQIA+ Emergency Fund, you can make a real difference in the lives of UO LGBTQIA+ students.