Office of the Dean of Students COVID-19 (Coronavirus) Updates
Update March 23, 11:30 a.m.: Oregon Governor Kate Brown calls for Oregonians to stay home, closing specific retail businesses and requiring social distancing in most cases. The executive order took immediate effect on March 23, 2020.
In order to promote social distancing to limit the spread of COVID-19, the Office of the Dean of Students (DOS) and LGBT Education and Support Services (LGBTESS) is currently operating with reduced staffing levels and has transitioned to offering services remotely. Thank you for your understanding and patience as together we work to sustain the health and well-being of our campus community.
We are committed to maintaining high levels of support and resources for our students. During this time, the LGBTESS and Dean of Students staff will continue to check and respond to voicemails and emails. The LGBTESS will also continue to offer resource navigation and support remotely, Monday through Friday, 9:00 a.m.–4:00 p.m. To reach the coordinator of the LGBT Education and Support Services, call 541-346-6105 or email hwilson2@uoregon.edu if you need assistance. To reach the Dean of Students crisis team, call 541-346-3216.
Refer to the site below for official updates regarding the University of Oregon's response to COVID-19, including frequently asked questions.
Community Support and Resources
As our community prepares and responds to the COVID-19, we acknowledge students with minoritized identities may be impacted by resource insecurity and barriers to access or support. If you are experiencing impacts to your basic needs including housing, finances, food, and healthcare, or if you are in need of assistance please reach out to the LGBTESS coordinator (hwilson2@uoregon.edu) or call the Dean of Students Office (541-346-3216). 
Following is a list of basic needs, crisis, and mutual aid resources:
You are not alone. Our community is here to offer support during these times of uncertainty, and to create systems of community care, mutual aid, and advocacy for one another. Reach out for help, offer care to others, and remember to be gentle with yourself.
Lavender Graduation 2020
Honoring LGBTQIA+ Graduates Remotely
Join us for our 24th year celebrating Lavender Graduation at the University of Oregon! This year we will be celebrating our graduates remotely!
Lavender Graduation will be held on Sunday, June 14, 2002, from 3:00–4:30 p.m. via Zoom. This live ceremony will recognize graduates, scholarship recipients, award winners, and LGBTQIA+ speakers.
Graduates must RSVP by June 1. All other guests must RSVP by June 12.
A Campus for All
The LGBT Education and Support Services team works to affirm the lives of lesbian, gay, bisexual, transgender, queer, questioning, asexual, aromantic, and allied (LGBTQIA+) students, faculty, and staff by providing educational and supportive resources. Our campus has been recognized as the top college in Oregon for LGBTQ students by the Campus Pride Index.
We are dedicated to providing space for all University of Oregon community members to explore their understanding of sexual/romantic orientation, gender, gender expression, and intersections of identities. We look forward to being in community with you.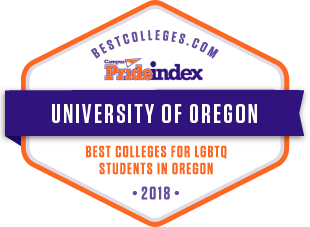 ---
Get Educated
LGBTESS offers programs that are designed to educate people about the truth and diversity of the lives of LGBTQIA+ individuals. Through ally training and panel discussions, we provide opportunities to share stories and ask questions in a way that fosters understanding, appreciation, and respect. Presentations are also available upon request.
Get Involved
Our student-driven outreach teams engage and empower LGBTQIA+ current and prospective students. Whether organizing events, being involved in campus organizations, or taking part in educational panels, our student employees and volunteers connect with the greater campus community, sharing resources to support students' well-being and academic success.
In addition to our programs and services, there are organizations on and off campus, all focused on promoting awareness, education, support, and appreciation for lesbian, gay, bisexual, transgender, intersex, and queer issues.
Get Resources
There's a reason we've been recognized nationally as one of the best colleges for LGBTQIA+ students. From gender equity housing options to inclusive medical and mental health care, the UO is dedicated to creating an environment of respect and encouragement for all of our students.
Support is available through scholarships that are based on both merit and need. Students are also invited to apply for LGBTESS-sponsored trips to conferences.
For students who are currently in or hoping to begin the process of transitioning while attending the UO, the university offers a variety of resources and services.
---
LGBT Education and Support Services
Office Hours
Monday–Friday: 9:00 a.m.–5:00 p.m.
Office of the Dean of Students
Oregon Hall, Suite 380
*Hours are subject to change.
Please contact the coordinator for updated hours.
Get Connected
Sign up for our email list. We'll keep you informed about programs and opportunities provided through our office, plus other related LGBTQIA+ events on campus and in the community.