Services for Students Facing Food Insecurity Amid COVID-19 Response
Updated April 30, 2020
Oregon Governor Kate Brown calls for Oregonians to stay home, closing specific retail businesses and requiring social distancing in most cases. The executive order took immediate effect on March 23, 2020.
The following is a list of services and programs that offer free food, meals, and support for accessing resources. While availability and operations remain fluid and subject to change without notice, the UO Student Food Security Task Force will do all it can to communicate updates as quickly as possible. Program descriptions and schedules can be found lower on this page.
Student Food Pantry: Open 4:00–6:00 p.m. Wednesday and Thursday through summer term. The Student Food Pantry has changed locations. They are now located at 710 E. 17th Ave., Eugene.
SNAP Enrollment Help: If you need assistance in applying for SNAP during the summer of 2020, please email Emma from the Duck Nest at ducknest3@uoregon.edu or Sofia from the Student Sustainability Center at foodsecurity@uoregon.edu to set up an appointment. You can also refer to videos on the Basics Needs Blog for tips and tricks on applying for SNAP. Please follow the Duck Nest and the SSC on social media to stay up to date. COMING SOON: We will be installing a chat feature that allows for remote help.
Ducks Feeding Ducks: Emergency meal dollars will remain available and can be used wherever Duck Bucks are accepted. 
FOOD for Lane County: FOOD for Lane County's website has up-to-date information about where to get free produce, groceries, hot meals, and grab-and-go meals for children during school closures.
Produce Drops: SUSPENDED. FOOD for Lane County has temporarily suspended the Trillium Produce Plus program, resulting in the temporary suspension of our Produce Drops. We are actively working on solutions, but for the time being, Produce Drops are suspended until further notice.
Leftover Textover: SUSPENDED. Events on campus have been canceled to comply with Governor Brown's stay-at-home order.
Hearth and Table: SUSPENDED to comply with Governor Brown's stay-at-home order and FOOD for Lane County's guidelines. Hearth and Table is actively working on solutions, but for the time being, Hearth and Table group meals are suspended until further notice.
For more information on these programs, please visit the Basic Needs Blog. The blog is being updated with program information, instructional videos, and other resources.
We know that, as a student, you have a lot of things on your plate. But with the rising cost of education, housing, and other expenses, your plate might be lacking one vital item—food.
The University of Oregon recognizes the importance of proper nutrition, and that having enough food contributes to your academic success. That's why our campus and community partners are continuing to take steps to address food insecurity in the lives of our students.
Many of these programs are made possible with joint funding from Associated Students of the University of Oregon and the Office of the President.
Produce Drop
In partnership with Food for Lane County and Trillium Produce Plus, the UO Student Sustainability Center's new monthly program in the EMU Amphitheater places fresh produce directly into the shopping bags of UO students who self-identify as living at or below 200 percent of the Federal poverty level.
Like a free farmer's market for students, you can select the fruits and vegetables you'd like, and receive printed recipes that use ingredients available at the market that day. Produce Drop is held on the second and fourth Tuesday of every month, from 3:00–5:00 p.m.
---
Ducks Feeding Ducks
Do you ever find yourself at the end of the month, short on cash, and missing meals in order to pay for other necessities? The new Ducks Feeding Ducks program, managed by the EMU ID Card Office, can transfer $10 to your account for use at any campus food venue that accepts Duck Bucks.
As a UO student, simply apply online. If you meet the criteria, the funds will be added to your account within an hour.
There is also a donation component for students, UO employees, and family members who would like to contribute to Ducks Feeding Ducks.
---
Supplemental Nutrition Program (SNAP)
Many students qualify for SNAP based on their financial need, but are often unaware of their eligibility. The Student Sustainability Center and the Duck Nest collaborate with Partners for a Hunger-Free Oregon and the Oregon Department of Human Services to help students learn about the program and get enrolled, if eligible.
SNAP enrollment events are held on campus each term. Trained volunteers will be available to answer any questions, and help you fill out your SNAP application.
---
Student Food Pantry
The Student Food Pantry—a ministry of the Episcopal Campus Ministry in Eugene and a partner agency with Food for Lane County—is open to all college students in the greater Eugene area. Founded in 2011, the pantry provides free supplemental food for college students. Depending upon availability, this may include canned fruits and vegetables; frozen and fresh vegetables; bread, rice, pasta, and cereal; canned beans, soups, and other protein sources; dairy products, frozen meats, and meat substitutes. Additional quantities are given to students with children.
Students may come to the pantry once a week on Wednesday or Thursday, 4:00–6:00 p.m. The Student Food Pantry is located at 710 E. 17th Ave, Eugene. Bring your student ID card and a grocery bag.
---
Ducks Leftover Textover
The Ducks Leftover Textover program alerts current UO students via text message when there is leftover, free food available on campus. These leftover portions come from campus events where food was ordered from UO Catering, but not all of it was consumed.
Texts to announce available food will occur in real time—typically with about 15 minutes notice—and include a location link on the UO campus map.
---
Cooking Classes
There are several options for students who want to learn how to cook healthy, affordable meals.
In partnership with Food for Lane County, the Duck Nest offers cooking classes throughout the year. Participants learn how to stretch their food dollars through meal planning and shopping wisely. The class ends with the group cooking and sharing a meal. 
The Department of Physical Education and Recreation holds a weekend class each term, PEF 335 Healthy Cooking. The class combines lectures and activities to explore the basics of cooking and nutrition, including a grocery store tour, learning to read food labels, and basic kitchen techniques.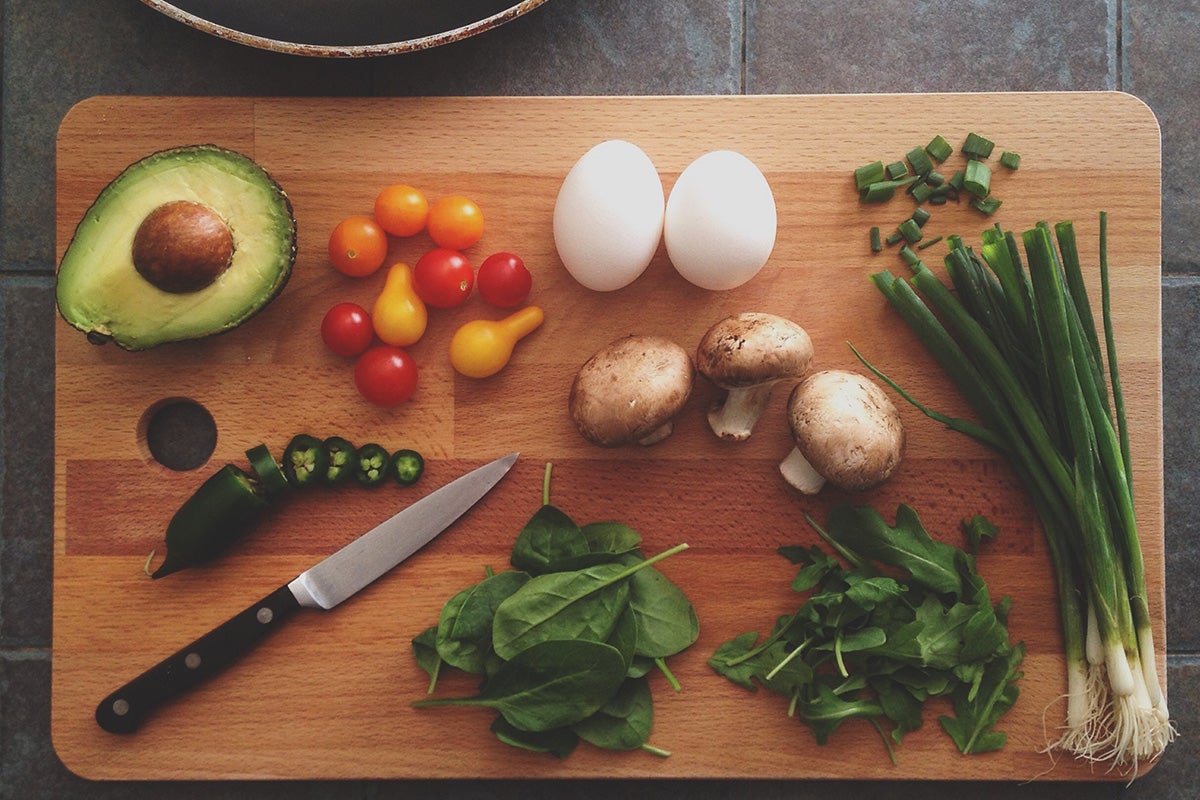 Our Statement on Race and Food Insecurity
June 9, 2020
Dear campus community, 
Black lives matter.
The recent murders of Black people under the guise of law enforcement and justice have exposed the violence and inequality that has been foundational to this nation and, indeed, our state and city. The Food Security Task Force takes this as premise, and we encourage everyone to read and learn from other campus groups who are educating, organizing and supporting.
We also recognize that this is not a Black problem, or a Brown problem, or a POC problem. This is a White problem, and this is a problem with Whiteness. Whiteness is, and has been, a strategy for certain people whose bodies are read and raced as "White" to gain resources at the explicit cost of those who are read and raced as non-White. This is not all whiteness is and can be, but it is why Whiteness was invented.
As the Food Security Task Force, our mission is to reduce the prevalence of food insecurity on campus. At the University of Oregon, 36 percent of all students experience some level of food insecurity during the course of their college career. That is unacceptable. Even more appalling is the documented fact that if you are not reading this as white, straight, and/or male, you are more likely to experience food insecurity.
Food, like housing, money, jobs, and education itself, is one of the resources that Whiteness has been constructed to unequally control and distribute in self-serving ways.
In our 2017 survey assessing basic needs security, 44 percent of Black survey respondents report experiencing food insecurity. Among White students, that number is 35 percent. Latinx students report at 50 percent. Native students report at 65 percent. 
Any amount of food insecurity for any person is unacceptable, and it should not be part of the college experience. Numbers that demonstrate a disproportionate impact on Black students, Latinx students, Native students, and other students of color are an injustice. 
The COVID-19 pandemic will likely make this inequity worse. As a result of the same structural processes that make access to food unequal — that is, Whiteness and systems of white supremacy — Black people, Native people, and other people of color have been, and will be, disproportionately impacted by the pandemic and its economic ramifications. As students return to the campus in the fall, they need to know that their health and safety is secure, and this includes ensuring that their basic needs are met. 
Now entering its second full year as an established initiative, the Food Security Task Force's work is clear: We will continue our efforts to reduce food insecurity for all students on campus, and we will make certain that we counteract the systems of white supremacy in order to provide services, opportunities, support, access, and resources to those who need it most.
We will immediately begin crafting new programs and refining existing programs. This will start, as it must, with learning and listening. The Food Security Task Force is made up of students, faculty, staff, and community partners from across and off campus. We will use these networks to listen to the needs of our students and hold those up against our current programming. In response, we will either modify existing programs and services or create new services to meet the need as best we can.
As always, we welcome feedback, ideas, questions, and engagement. If you are interested in learning more about our programming and the ways in which we are meeting our commitments, you can follow our developments on this page and on the UO Basic Needs resource blog.
In solidarity,
Marcus Langford and Taylor McHolm, co-chairs of the Food Security Task Force
Contact Us
For more information about the UO Student Food Security Task Force or to get involved in one of our programs, contact Marcus Langford, Associate Dean of Students, Office of the Dean of Students, at mlangfor@uoregon.edu.