---
Our Mission
The Lyllye Reynolds-Parker Black Cultural Center is the engine for Black students' academic success at the University of Oregon. The BCC is a welcoming and supportive space that helps Black students harness the resources necessary to navigate their social, cultural, and academic experience. By investing in the success of Black students, the BCC enhances the cultural and social development of the entire University of Oregon community.
Advancing the Mission
of the BCC
---
Black Cultural Center Opening from University of Oregon on Vimeo.
Umoja Black Scholars Community
The Umoja Residential Community is a space in the residence halls where Black students can come together, grow in their own identities, engage with peer mentors, and connect with academic advising and resources.
Applications for the Umoja Black Scholars Community are still open for fall term 2020.
2020 Black Grad Ceremony
Congratulations to the Class of 2020 Black Grads!
The Lyllye Reynolds-Parker Black Cultural Center, the Black Student Union, and the Center for Multicultural Academic Excellence celebrated and recognized our Black graduates in a virtual ceremony.
Virtual Engagement
We are committed to maintaining high levels of support and resources for our students. During this time, the BCC and Dean of Students staff will continue to check and respond to voicemails and emails. In addition, the BCC will continue to offer resource navigation and support remotely, Monday through Friday, 9:00 a.m.–4:00 p.m. To reach the coordinator of the BCC, call 541-346-6321 or email arish@uoregon.edu if you need assistance. To reach the Dean of Students crisis team, call 541-346-3216.
Refer to the site below for official updates regarding the University of Oregon's response to COVID-19, including frequently asked questions.
During spring term 2020 remote learning is occurring online. While we may not be able to engage with one another under the same roof, we do welcome students to connect with the Black Cultural Center staff virtually. Please join us on for Virtual Super Soul Tuesdays, Nuanced Griot: Community Conversations, and other virtual programming via our social media accounts.
Academic and Financial Resources
Reserve the BCC for Your Next Event
Temporarily the BCC is not taking reservations. Once the campus is open to the public we will resume reservation requests.
Is your student group or campus organization looking for a meeting space or a location to hold an event? Contact the Black Cultural Center at least two weeks before your event, and we'll let you know if space is available.
Our new building has room for smaller meetings (maximum capacity eight people) as well as larger gatherings (maximum capacities of 30–70 people). Also available is a kitchen and a covered porch, as well as technology including amplified sound and a display screen with HDMI.
Reservations will be approved on a first-come, first-served basis, pending space availability.
---
About Lyllye Reynolds-Parker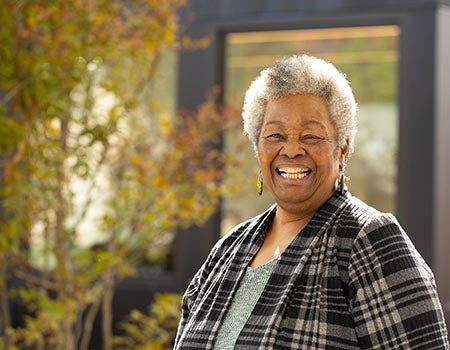 Lyllye Reynolds-Parker was born in Eugene in 1946 and was a member of the first graduating class of Henry D. Sheldon High School. Ms. Parker started her social justice work while in high school, being actively involved with the civil rights movement here. She was vice president of the local Student Non-violence Committee, an organization founded by Stokely Carmichael, an internationally known civil rights advocate.
Ms. Parker earned her BA in sociology from the UO in 1991. She worked at the UO as an academic advisor in the Office of Multicultural Academic Success for 17 years, until she retired.
Ms. Parker has served on multiple advisory committees. She also serves on the board of a local nonprofit, the League of United Latin American Citizens, where she is the honorary chair of their Anti-Racial Profiling Committee.
The UO's Women's Center hosts an annual Lyllye B. Parker Womxn of Color Speaker Series to bring female speakers of color to campus.
---
Events
Racing to Change: Oregon's Civil Rights Years—The Eugene Story
11:00 a.m.

---
Beginning August 5, the museum will be open Wednesdays through Sundays from 11:00 a.m. to 3:00 p.m.  In accordance with university and state public health mandates, we...
October 12 2019–December 31 2020
Museum of Natural and Cultural History
Beginning August 5, the museum will be open Wednesdays through Sundays from 11:00 a.m. to 3:00 p.m.  In accordance with university and state public health mandates, we will require everyone onsite to wear masks or other face coverings and maintain a distance of six feet from anyone outside their households.*

Racing to Change chronicles the civil rights movement in Eugene, Oregon, during the 1960s and 1970s—a time of great upheaval, conflict, and celebration as new voices clashed with traditional organizations of power. Co-developed by the Museum of Natural and Cultural History and Oregon Black Pioneers, the exhibit illuminates legacies of racism and the unceasing efforts of Oregon's Black communities to bring about change. 

Through photographs, recorded interviews, and historical archives, Racing to Change explores how racist policies and attitudes created a pressing need for bold civil rights activism in Eugene. Firsthand accounts from movement organizers, former UO students, elected officials, and other members of Oregon's black communities paint a vivid picture of the area's past, and urge us to take part in building a more just future. 

 

*Public hours and safety protocols are subject to change based on guidance from the University of Oregon and the Oregon Health Authority. Please stay tuned to our COVID-19 Updates page for developing information.

March for Black Trans Lives
noon

---
Eugene Pride Joins with Black Unity to March for Black Trans Lives on Saturday, August 8, 2020 in lieu of Pride in the Park Festival The March Will Begin at Noon at the Federal...
August 8 noon
Federal Courthouse and End at Kiwanis/Skinner Butte Park
Eugene Pride Joins with Black Unity to March for Black Trans Lives on Saturday, August 8, 2020 in lieu of Pride in the Park Festival The March Will Begin at Noon at the Federal Courthouse and End at Kiwanis/Skinner Butte Park

(Eugene, OR) Black Unity, the organizers of the Eugene/Springfield area's nightly Black Lives Matter protest, and the Eugene Pride Day Equality Project, the non-profit organization that produces Eugene's annual Pride in the Park Festival, are joining together to rally and march for Black trans lives and to highlight the intersections between the Black community and the LGBTQIA+ community.  The march will begin outside of the Federal Courthouse in downtown Eugene at 12:00 PM on Saturday, August 8 and end at Kiwanis Park at the west end of Skinner Butte Park.   Members of Black Unity and Eugene Pride will host a joint media availability at 1:00 PM on Saturday, August 1st, in front of the Federal Courthouse.

Rallies preceding the march and after its conclusion will feature speakers from  TransPonder, the HIV Alliance, Planned Parenthood of Southwestern Oregon, Black Unity, Senator James Manning, Councilor Greg Evans, and others.  The march will honor the trans Black women and other women of Color who started the movement for gay rights and trans liberation at Stonewall, 51 years ago.  All attendees should wear a mask and practice physical distancing to the extent possible. (For more information regarding the COVID-19 protocols and procedures, please visit our FAQ page.

The Black community is part of the LGBTQIA+ community and vice versa.  Individuals in both communities are targeted for violence for being who they are, face barriers in housing, healthcare, and education, and face higher rates of HIV infection.   At least 21 trangender individuals have been murdered this year, including Nina Pop, Monica Diamond, Riah Milton, Tony McDade and others.  The police continue to murder Black people throughout the country, including George Floyd, Breonna Taylor, Ahmaud Arbery, Rayshard Brooks, Elijah McClain, and countless others before them.  The march will serve as an opportunity to form stronger community ties and mutual aid networks between the area's Black and LGBTQIA+ communities.   We stand in solidarity together to condem the continued murder to Black people and trans individuals.

The Eugene/Springfield Pride in the Park Festival is held each year on the second Saturday in August at Alton Baker Park.  This year would have marked the festival's 29th year, but the festival was cancelled due to the ongoing COVID-19 crisis.  In addition to celebrating the LGBTQIA+ community, the Festival raises money for youth scholarships for community members who are attending college that are members of the queer community or children of LGBTQIA+ individuals.  Eugene Pride is committed to centering BIPOC voices in all future festivals and is working to increase BIPOC participation on its board of directors. 

For more information, please contact: Eugene Pride: Bill Sullivan – Board President                                  

Marlie Heberling – Marketing Coordinator Black Unity: Claire Reyna

Lyllye Reynolds-Parker
Black Cultural Center
1870 East 15th Avenue
Monday–Friday: 9:00 a.m.–4:00 p.m. (offering services remotely)
Get Connected
If you are interested in staying up to date about what's going on with the BCC, please provide your name and email using our online form to be added to our mailing list.